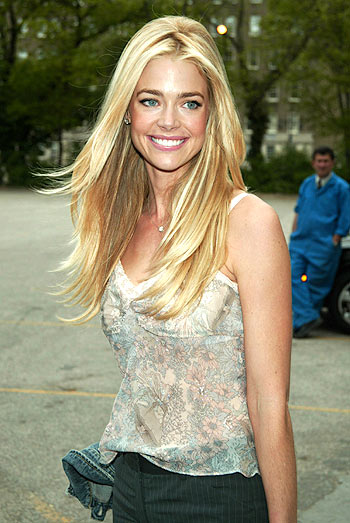 Full Name: Denise Lee Richards
Nick name: Fluffy Girl
Height: 5'6" (1.68m)
Date of Birth: February 17th, 1971
Current Age: 35
Star Sign: Aquarius
Place of Birth: Downers Grove, Illinois, USA
Tattoos: 1 on her ankle that says 'Charlie'
Hobbies: Kickboxing
Education: Herrick Junior High School, Illinois
Downers Grove High School, Illinois
El Camino High School, Oceanside, California
Family: Father – Irv Richards
Mother – Joni Richards
Sisters – 2 Younger
Celebrity Relationships: Charlie Sheen (Actor)
Richie Sambora (Bon Jovi Singer)
Children: Daughters – Sam J. Sheen (2) & Lola Rose Sheen (1)
Occupation:Actress
Filmography:
Backstabbers (2006)
Edmond (2005) playing the B-Girl
I Do (But I Don't) (2004) playing Lauren Crandell
Elvis Has Left the Building (2004) playing Belinda
Yo Puta (2004) playing Rebecca Smith
Scary Movie 3 (2003) playing Annie
Love Actually (2003) playing Carla, the real friendly one
You Stupid Man (2002) playing Chloe
The Third Wheel (2002) playing Diana
Undercover Brother (2002) playing the White She Devil
Empire (2002) playing Trish
Good Advice (2001) Playing Cindy Styne
Valentine (2001) playing Paige Prescott
Tail Lights Fade (1999) playing Wendy
The World Is Not Enough (1999) playing Dr. Christmas Jones
Drop Dead Gorgeous (1999) playing Rebecca Ann Leeman
Lookin' Italian (1998) playing Elizabeth
Wild Things (1998) playing Kelly Lanier Van Ryan
Starship Troopers (1997) playing Carmen Ibanez
Nowhere (1997) playing Jana
In the Blink of an Eye (1996) playing Tina Jacobs
Pier 66 (1996) playing Colleen
919 Fifth Avenue (1995) playing Cathy Damore
P.C.H (1995) playing Jess
Tammy and the T-Rex (1994) playing Tammy
Loaded Weapon 1 (1993) playing Cindy
Her Family History: Denise grew up in Illinois with her family before moving to California when she was 15. Her father Irv Richards used to work for a phone company. But Denise's parents own a chain of coffee shops in areas such as San Diego called 'Jitters'. Family say Denise was quiet and shy as a child.
Pets: Several cats and dogs
Interesting Facts about Denise:
Before moving to LA to begin her acting career, Denise worked as a model
Denise was married to her husband Charlie Sheen for 3 years before filing for divorce. They met and fell in love while filming 'Good Advice' in 2001 and were married in 2003
Denise had a role in 'Loaded Weapon 1' as did her ex husband Charlie Sheen. But this was years before they met and fell in love
While Denise and Charlie were married, they appeared in 'Scary Movie 3' together
Denise had a crush on John Travolta when she was growing up
She auditioned for the role of Beth in 'Halloween: The Curse of Michael Myers' in 1995
She was a cheerleader in high school
Ranked #9 in Taiwan FHM's "100 Sexiest Women" in 2001
Denise appears in Snoop Dogg's "Undercova Funk" music video alongside Eddie Griffin &Neil Patrick Harris
Denise gave birth to her first child with Charlie Sheen in LA on March 9th, 2004. A daughter called Sam weighing 7lbs, 3oz
Ranked #21 on Stuff magazine's "102 Sexiest Women in the World" list in 2002
She guessed starred in "Two and a Half Men" as former girlfriend of her husband Charlie Sheen's character that now has a baby girl on the show. Their own daughter Sam Sheen played the part of his daughter
While married to Charlie Sheen, she was the daughter-in-law of actors Martin & Janet Sheen and the sister-in-law of Ramon Estevez and Emilio Estevez
Denise once worked as a grocery store clerk
She gave birth to her second child with Charlie Sheen on June 1st, 2005. Another daughter called Lola Rose weighing 6lbs, 10oz
She guessed starred as Ross and Monica's cousin in an episode of "Friends"
Denise drives a Mercedes-Benz S55 AMG
She shared her birthday with Paris Hilton
During her marriage to Charlie Sheen, she was the stepmother of his daughter Cassandra
She is of Welsh and Croatian heritage
Ranked #82 on FHM's "100 Sexiest Women in the World" list in 2005
Her boobs are size 36C
Since filing for divorce from Charlie Sheen, Denise has enjoyed a vacation in Europe in June, 2006 with her new man Richie Sambora who recently split from his wife Heather Locklear. On return from their vacation at LAX airport, Denise sparked rumours that she and Richie are engaged by wearing a band on her wedding finger, but insiders say that they are not engaged and in fact their relationship is off because Richie feels guilty about upsetting Heather
Denise performed with the Pussycat Dolls on stage in Las Vegas in June, 2006
By the end of their marriage, Denise had a restraining order against husband Charlie Sheen
She appeared on a 2004 cover of Playboy magazine
Denise is selling her home in LA County for $4.3million, she bought the house for just under $4 million in 2005 when she split from Charlie Sheen. Coincidently it was Denise's old friend now arch-enemy Heather Locklear who helped her find the house, the pair aren't speaking since Denise began a romantic relationship with Heather's estranged husband Richie Sambora
Denise's Personal Quotes:
"Doing love scenes is always awkward. I mean, it's just not a normal thing to go to work and lay in bed with your co-worker."
"I found out early I could make more money modeling than I could waitressing and scooping Haagen-Dazs. But I always wanted to be an actress."
"I'm spontaneous. I love going from one thing to something else and not knowing what I'm going to do next."